ETHOS DUO – GUITAR AND MANDOLIN
WHO WE ARE
Ethos Duo is composed of Tiziana Savarese (classical and acoustic guitar), a professional graduate of the Conservatory with experiences in Italy and abroad, and Dora Gama Statunato (mandolin), with various collaborations such as with the Neapolitan Mandolin Academy. The pieces performed are the result of a careful choice of arrangements, which allow to offer a repertoire particularly suitable for weddings, receptions and ceremonies organized in wonderful areas such as Ravello, Amalfi, Positano, Praiano, Vietri sul mare, Cetara, Sorrento, Vico Equense, Cilento and Matera.
WEDDING MUSIC AND EVENTS
Ethos Duo is the female guitar and mandolin musical duo for elegant weddings, refined ceremonies, wonderful receptions, cocktail hour and exclusive events in the most beautiful locations of the Amalfi Coast, Sorrento Peninsula, Cilento, province of Salerno, Campania and Basilicata region.
A soft and romantic wedding music but, at the same time, melodic and engaging with songs that are performed by the two professional musicians of the duo to offer a sense of serenity and harmony during a wedding with a religious or civil ceremony, a reception on the wedding day, a cocktail hour or to celebrate an anniversary.
The music and elegance of Ethos Duo is also the perfect background music for a romantic dinner or to dedicate a serenade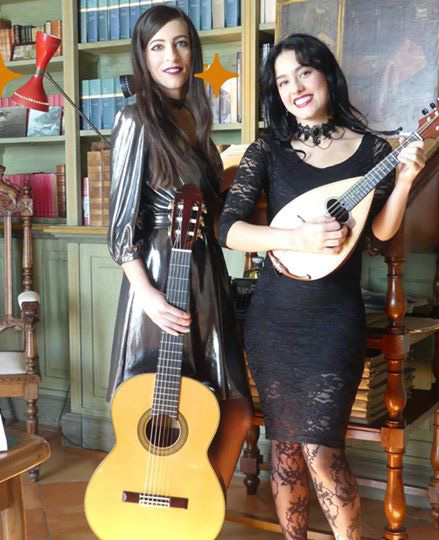 REPERTOIRE
The professional level of the female duo Ethos Duo allows to offer a selected repertoire of instrumental music particularly suitable for special occasions and includes songs of traditional Neapolitan music and Brazilian popular music such as samba, choro and bossanova.
On request, virtuosic classical pieces can be performed with guitar and mandolin, make a serenade or moments of the traditional 'posteggia napoletana'. The music and melodies performed by the guitar and mandolin duo are the ideal background for ceremonies and exclusive events (elopement ceremonies included) organized in the most beautiful locations of the Amalfi Coast, the Sorrento Coast, Cilento, all the provinces of Campania including Naples, Salerno, Avellino, Benevento and Caserta and Basilicata including Potenza and Matera. Availability for the islands of Capri, Ischia and Procida too.